ESSAYS ON VIDEO GAMES
CHAPTER 16
The Making of Elden Ring
The most anticipated Souls game ever.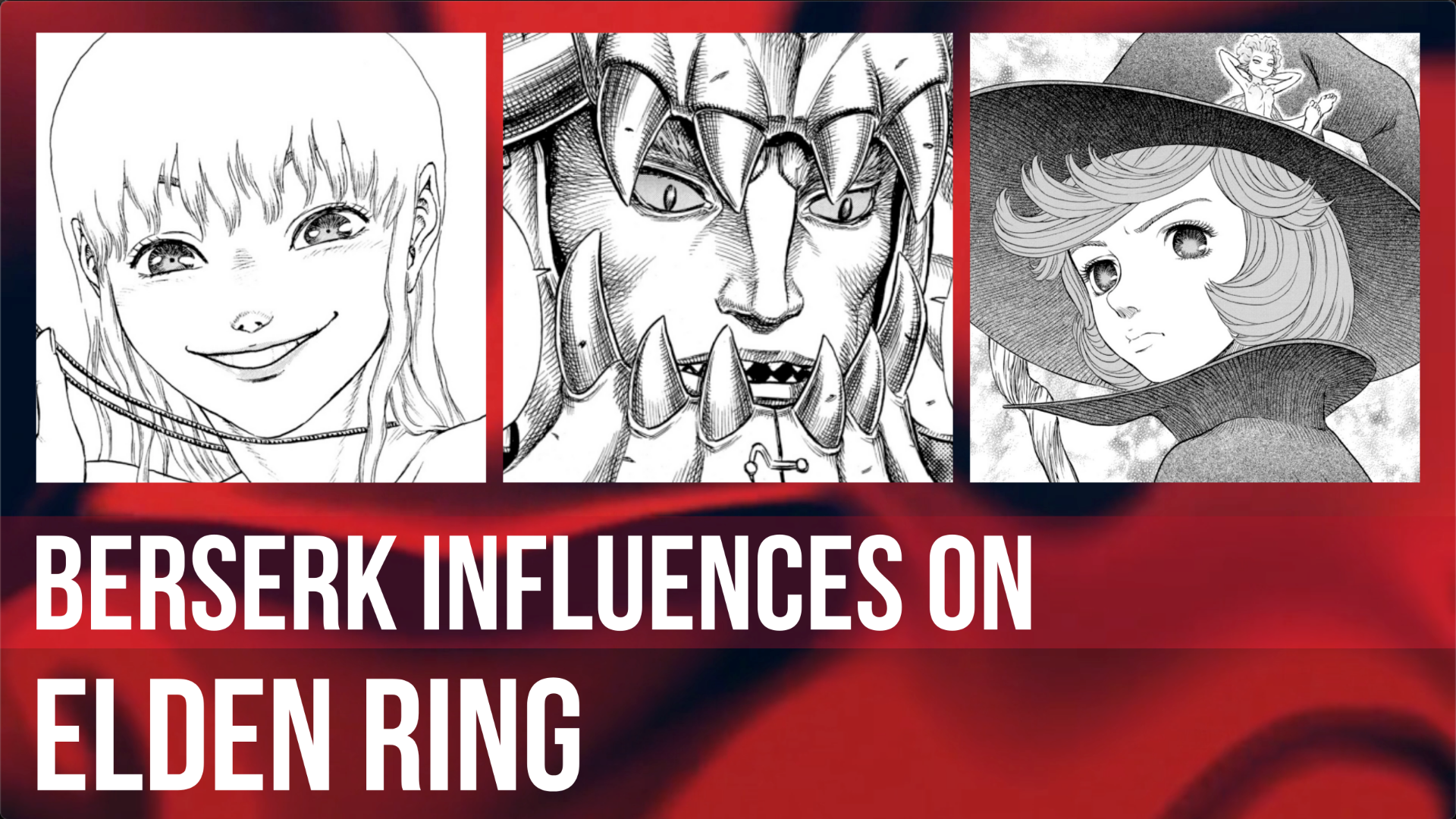 Elden Ring is the seventh game of the Souls series. It is the biggest and most anticipated Souls game ever. The expectation for Elden Ring is high as Miyazaki claimed that it is the next evolution of the Dark Souls series, containing a much larger open-world environment and more customizations on weapons, armor, and items.
For the first time, Hidetaka Miyazaki collaborated with an equally esteemed creative genius, George R. R. Martin, whose main work, A Song of Ice and Fire, is considered to be among the best in the Fantasy genre.
Discover how Elden Ring was created and the development story behind Hidetaka Miyazaki's sixth masterpiece.
Overview
Development Start: Apr 3, 2017

Official Reveal: Jun 9, 2019

Gameplay Reveal: Jun 10, 2021

Release Date: Feb 25, 2022
Background of Elden Ring
Two weeks before the 2019 E3, George R.R. Martin wrote in his blog that he was doing a collaboration with a Japanese video game company. Nobody had the hint that this company would be FromSoftware, and that the director he worked with was none other than Hidetaka Miyazaki. This collaboration will become known as the new game Elden Ring.
The Leaked Collaboration
It all started when George R.R. Martin shared in his own blog post, dated May 20, 2019, in just a simple, single line that he consulted on a video game from Japan. As he is extremely famous on his own, there were lots of fans who speculated which gaming company it was.
George R.R. Martin: And me? I'm still here, and I'm still busy. As a producer, I've got five shows in development at HBO (some having nothing whatsoever to do with the world of Westeros), two at Hulu, and one on the History Channel. I'm involved with a number of feature projects, some based upon my own stories and books, some on material created by others. There are these short films I am hoping to make, adaptations of classic stories by one of the most brilliant, quirky, and original writers our genre has ever produced. I've consulted on a video game out of Japan. And then there's Meow Wolf...
One day later, on May 21, 2019, Gematsu released the leak.
Gematsu: A person familiar with the ongoings at FromSoftware has told Gematsu that the project, shared to be internally known as "GR" and in development for the past three years, is an open-world game, a collaboration between Hidetaka Miyazaki and author George R.R. Martin. The game will be published by Bandai Namco and officially announced at Microsoft's E3 2019 press conference.
The Announcement of Elden Ring in E3 2019
Two weeks after the leak came out, it was finally confirmed during E3 2019 that George R.R. Martin is indeed collaborating with Hidetaka Miyazaki in FromSoftware's newest game, Elden Ring.
Fans of both sides were ecstatic. It was something that came out of nowhere. Nobody expected it, as it was too much of a good thing.
What is Elden Ring?
The first official reveal of Elden Ring was shown on E3 by Microsoft's Xbox. Typical to other FromSoftware reveals, it is a trailer devoid of gameplay, more of a mystery than a revelation.
Reddit and Youtube exploded with the fans speculating what it is all about.
Similar to all the previous games of Miyazaki, Elden Ring is an action RPG, this time returning to the western fantasy setting after their short stay in Sengoku Japan with Sekiro.
Miyazaki shared that it is like Dark Souls on steroids - a bigger open world with more weapons, items, armor, and customizations. In addition, there will be a new strategy and style of combat.
Miyazaki: Elden Ring is a new third-person action RPG with a dark fantasy setting. The gameplay is not so different from that of Dark Souls. This does not mean that the gameplay will be identical, but you could say that Elden Ring shares the same genre.
With a larger world, new systems and game mechanics inevitably become necessary. In that context, I believe that Elden Ring is a more natural evolution of Dark Souls.
Origins of the Collaboration for Elden Ring
You might be wondering, how did it all start? How did this unbelievable collaboration happen?
Miyazaki shared that it began with his being a big fan of Martin. We have already shared in the previous entries how much Miyazaki values books, the printed text, as a source of inspiration. He even singled out Martin's two works: "A Song of Ice and Fire" and "Fevre Dream," as belonging to his all-time favorites during interviews.
Miyazaki: First, you'd spot the manga shelf, with Devilman and Berserk lining the top. The neighboring bookshelf is packed with tabletop role-playing game rulebooks, with RuneQuest prominently displayed alongside the board game Dragon Pass. A shelf is packed with novels – old classics of fantasy and science fiction, alongside George R. R. Martin's A Song of Ice and Fire and Fevre Dream.
Miyazaki is a Huge Fan of George R.R. Martin
Miyazaki is such a big fan that he even recommends Martin's books to his employees.
Miyazaki: I suppose the beginning of this collaboration came from the fact that I am a huge fan of Martin's work.
I love "A Song of Ice and Fire" as well as the "Tuf Voyaging" series. However, if I had to pick a favorite, I would probably say "Fevre Dream."
Personally, I see "Fevre Dream" as a masterpiece among vampire fantasy and had even previously recommended it to all our new employees.
FromSoftware Connects with George R.R. Martin
So, as the company president, Miyazaki had FromSoftware request George R.R. Martin for a meeting, with the expectation that the famous author would turn them down. But, to their surprise, Martin agreed to meet with them, and something clicked between Miyazaki and Martin. When Miyazaki proposed to create a western fantasy game, Martin approved and accepted.
Miyazaki: I was truly surprised by how smoothly it all went. Me being such a big fan of Martin caused our executive business director Eiichi Nakajima to connect and reach out to him with the expectation that we would get turned down.
Fortunately, we were given the rare opportunity to discuss one-on-one with Martin, which was an incredibly enjoyable and stimulating experience. It was then that I sincerely felt that I wanted to work with him.
I am still unable to put into words how grateful I am to him for agreeing to our offer.
The Collaboration Begins
Miyazaki shares below the collaboration that occurred between him and Martin. In the next section, we will share in detail the exact role of Martin in Elden Ring.
Miyazaki: The actual collaboration began with Martin ever so politely confirming what kinds of themes, ideas, as well as various game-related aspects I had envisioned for the game.
This allowed us to have many open and creative discussions regarding the game, which Martin later used as a base to create the overarching mythos of the game world itself.
This mythos proved to be full of engaging characters and drama, along with a plethora of mystical and mysterious elements as well. It was an amazing source of stimulus for the development staff and me.
Elden Ring's world was created using this mythos and stimulus as a foundation. Even I find it difficult to contain my own excitement from time to time. We hope that everyone is looking forward to the world we have created.
What Exactly is George R.R. Martin's role in Elden Ring?
Earlier, we shared our doubts about the possibility of Miyazaki collaborating with anyone on the authorship of his games' stories. This is because of his preference for what he calls Total Direction, as well as his choice for environmental storytelling, with players discovering the game's "hidden beauty."
But collaborate, they did. So the main question is - how did they split the authorship for Elden Ring?
Miyazaki shared that Martin focused on the mythology of the world of Elden Ring instead of writing the main story of the game.
Miyazaki: Storytelling in video games, at least the way we approach it at FromSoftware, comes with numerous restrictions for the writer. I didn't think it was a good approach to have Martin write within those restrictions. By having him write about a time when the player is not directly involved, he can freely unleash his creativity.
Also, as FromSoftware, we did not want to make a more linear and story-driven experience with Elden Ring. Both issues can be solved by having Martin write about the world's history instead.
Knowll Insight: Hence, this is the best scenario for the fans of both creative geniuses. Miyazaki owns the main story, the context when the player begins the game, and Martin, on the other hand, owns the lore of this world. As a fan of both, there is nothing we could wish for more in this collaboration.
Miyazaki: It was a fascinating collaboration, as we both weren't restricted by each other yet still influenced each other's work.
Knowll Insight: Miyazaki compares the contributions of Martin to that of a handbook in tabletop RPGs, containing the history of the world.
Miyazaki: It truly is like a guide for the world's lore and therefore feels quite different from his novels. As someone who loves to discover and learn about a world's setting, it was very exciting to read.
Miyazaki's Flavor of Storytelling
Even though Miyazaki collaborated for the first time with another author, he was intent on maintaining their signature style of narration for the players.
Fans will enjoy Martin's world-building and mythology, but they would have to experience it through the Souls games' flavor of storytelling.
Miyazaki: The player will be able to discover and learn about Martin's mythology through exploration. We are known for allowing the player to explore the game's story and lore through fragments of environmental storytelling, and this time around, Martin's story is what you will be trying to unravel. The period the player explores is still connected to the old times, so as you gradually discover why the world has turned the way it is, you will learn more about Martin's mythology as well.
Origin of the Title - Elden Ring
This is not the first time that FromSoftware used the word "ring" in the title of their games. Before Miyazaki joined the company, in the year 2000, they released a game titled "Eternal Ring." And during the creation of Dark Souls, the initial candidate title was "Dark Ring."
According to Miyazaki, Elden Ring is an important artifact in the mythology of the new game.
Miyazaki: Elden Ring is the name granted to a mysterious concept that identifies the world itself.
As the trailer at the conference implied, this "Elden Ring" has been shattered. The meaning and significance of this will be one of the most significant themes of the game.
That is about all I can share at this point in time.
New Game Features of Elden Ring
As shared above, Elden Ring is like Dark Souls on steroids. It is considered the culmination of everything that Miyazaki has been creating with the Souls games.
Open World - More Vast and Open
All the Souls games can be considered open-world. However, with Elden Ring, Miyazaki is aiming for something vast and wide.
Miyazaki: While the narrow and intricate levels of our previous games were indeed interconnected, Elden Ring's environments will be much more open and massive. The more extensive open world will form the foundation of Elden Ring's gameplay, and its mechanics are designed with this type of environment in mind.
Knowll Insight: The kind of open-world game Miyazaki is aiming for is different from typical contemporaries, though. The Souls games are known for being high in challenge density - high gameplay per available space. And this reflects how he will design the towns and villages in the game.
Miyazaki: However, a more open world does not mean that we will see lively towns and cities in Elden Ring. Villages will be the grim dungeon-like ruins that you have come to expect from us.
Creating a more open game is a significant difficulty for us. If we were to include towns on top of that, it would become a bit too much, so we decided to make an open-world game focused on what we are best at.
More Weapons, Items, and Combat Strategy
Miyazaki shares that Elden Ring will contain the highest number of weapons, armor, magic, and ways to do combat among all Souls games. The player will enjoy the increase in RPG elements and combat strategy.
Miyazaki: Earlier, I shared that this title focuses more heavily on RPG elements. This game will include a large variety of weapons, magic, and ways to engage opponents, enabling the players to choose the style of gameplay and strategy that suits them.
Even when compared to the Dark Souls series, I think that this game will provide even more variety in the ways players can overcome challenges and tweak their tactics in facing enemies.
Large Scale Game
Miyazaki also shares that in addition to being open-world and high in RPG elements, it is also their largest game in terms of content and exploration.
Miyazaki: I would say that the most significant difference is it being open-world. Because of this, the scale of the world and its narrative, as well as the depth and freedom of exploration, have increased significantly. It is, without a doubt, our biggest game yet in terms of sheer volume.
It is a world full of danger and threats, as well as numerous areas ripe for exploration.
Among these locations, you will also find intricately designed multi-layered castles and such.
The Theme of the Game
During the reveal in E3 2019, Miyaki and his team revealed an artwork of a character present in the game.
Miyazaki: We selected this character because of his eccentric aspects as well as the way he conveys the darkness that the world and story possess. While Elden Ring may be a classic dark fantasy game, it is more than just that.
This character also represents one more theme in addition to the previously mentioned eccentricity.
That theme is the will or ambition of humanity.